Good day everyone. My name is Ben Roberson and I work for the Scottsdale Police Department in Scottsdale, Arizona. I have been an officer with Scottsdale since March of 1991. I am currently with the Traffic Enforcement Unit's DUI Squad and have been since May 2002. I am a certified HGN Instructor, Advanced SFST Instructor, DRE Instructor, Intoxylzer 8000 Certified, and Qualified Phlebotomist. I draw the blood of my arrestees. I have made well over 3500 DUI arrests. If you like to take impaired driver's off the road and arrest them then this is the squad to be on. It's great and very rewarding. After hitting 25 years in March 2016 I got into the drop so will be retiring no later than March 2021.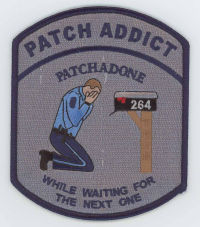 I WILL BE ATTENDING THE LOUISVILLE SHOW JUNE 2ND AND 3RD. I HOPE TO SEE YOU THERE AND MEET YOU FOR THE FIRST TIME OR SEE YOU AGAIN.
I am an avid patch collector and as of 3-25-17 I have
ALMOST 63,000 PATCHES AND OVER
1200 FIRE PATCHES
I ADDED 100'S OF PATCHES IN ALMOST EVERY STATE
3-25-17
I have several thousand additional
pictures of patches for your
viewing pleasure in the Wish List
Encyclopedia section so
you can well over 65,000
total pictures.
I NOW HAVE A SEARCH TOOL FOR YOU. YOU CAN NOW TYPE IN A KEY WORD AND ANY PATCH WITH THAT WORD IN THE TITLE WILL APPEAR. I HOPE THIS HELPS EVERYONE. I KNOW IT WILL HELP ME. CLICK HERE TO SEARCH.

I also have an UNKNOWN PATCH link. Please take a look at it and see if you recognize the origin of the patches in the pictures. If you do please just
****DO NOT ASK ME TO TRADE OR SELL A PATCH OUT OF MY COLLECTION. I WILL NOT
RESPOND TO ANY EMAIL ASKING ME TO DO SO*****
NOR WILL I SEND AN UNWATERMARKED SCAN. I KEEP GETTING ASKED TO DO SO AND ITS TO THE POINT THAT IT'S DEFEATING THE PURPOSE SO RESPECTFULLY NO I WON'T SEND AN UNWATERMARKED SCAN. SORRY BUT PLEASE DON'T ASK.
Please see Sale / Trade link below in ORANGE

Thanks for looking and above all...
STAY SAFE